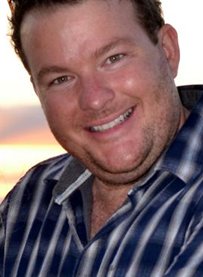 Andrew Costello 'Cosi'
Ambassador
Cosi is a born and bred South Australian! He grew up on the Yorke Peninsula and studied Agriculture at Roseworthy College. He's a country lad, who, after winning a radio competition on SAFM became a South Australia media stalwart!
Cosi heads up South Aussie with Cosi which is SA's only travel show. They are currently filming fourth series to commence later this year. South Aussie with Cosi calls Channel 9 Adelaide home but is now shown across the world on 46 countries!!
Cosi is proud to dedicate his life to promoting this state and those people who call it home. Cosi's goal is to not only promote SA but unify the state to encourage others to get passionate about living in one of the best places in the world.
Cosi inspires people to travel within South Australia using his personal and hilarious anecdotes! Cosi is always entertaining, informative and compassionate when it comes to promoting the state and interacting with his loyal followers. By using his hundreds of thousands of TV viewers and a combined 120,000 Facebook friends he has a significant voice amongst the South Australia community, especially with his country roots, he ensures no one is forgotten! Cosi has been in the media for 14 years which have included hosting SAFM and Triple M Breakfast Shows and national radio gigs. In 2005
Cosi was awarded SA journalist of the year. Over the years he has also won a swag of awards within radio including an ACRA for "Best Radio Feature" at a national level. In 2008 he appeared as a contestant on the high rating Channel 10 reality show The Biggest Loser. He turned around years of gaining weight, when in four months when he lost over 30% of his body weight and almost made it through til the end of the series, getting eliminated in Week 10 of the series with a huge fan following.
He is a passionate ambassador for the state of South Australia and will just about anything to prove it. He recently launched an online campaign to save the Lower Light Cockroach which saw his Facebook posts shared over 15,000 times and was seen by close to 1 million people. He purchased the world's biggest cockroach for two slabs of Coopers beer and re-gifted it back to the state. Now the SA icon is safe forever!
Cosi is also a dedicated family man, and loves his beautiful wife Sam and their three children who provide him with endless amounts of entertainment, on and off air! Offshore, Cosi's a also busy man.
He was the founder of a charity which owns a cattle farm in Cambodia. In 2013 Cows for Cambodia was launched. 60% of Cambodians earn less than $1 a day and those in rural villages have little or no possessions other than the straw huts they live in. Through his followers and fans he raises money and gives pregnant cows to give to these extremely impoverished families. Once the cow has its baby, he gives it to the next family to have their own calf! His personal aim is to have 100 cows and therefore help 100 families!! 100% of funds donated goes towards buying cows, vaccinations and additional hay.
Cosi is the perfect fit for any business looking for a high profile South Aussie as an MC or host. His online expertise and huge following have been used by many companies to strengthen their company's position online with incredible results. The passion that Cosi has for life is infectious to all those he is around!   Speaking Topics Include South Aussie with Cosi - Tourism and promoting travel within the state General appearance and hosting because of South Australia our national profile - i.e. carols by candlelight Cows for Cambodia Media events - both TV and Radio Charitable events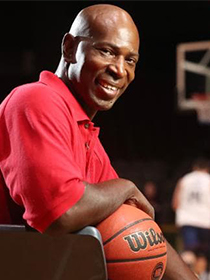 Mark Davis
Ambassador
Basketball great Mark Davis was born and raised in Philadelphia, USA. Mark toughed it out to gain his individual status both on the court and in the playgrounds sharpening his basketball skills, he then headed off to College where the basketball competition grew stronger and opportunities and respect had to be earned.
Mark came out to Australia in 1985 to play with the South Adelaide Panthers after playing in New Zealand and winning a Championship with Dorados Chihuahua in Mexico, it was not long before legendary Coach Ken Cole signed Mark to the West End 36ers where he played between 1985 to 2001 gaining the nickname "The Chairman of the Boards" for his record-breaking rebounding achievements.
Mark lead the 36ers to 3 NBL championships he was also selected in the NBL first team 5 times and was a NBL All Star 8 times. Mark was NBL Grand Final MVP in 1986 and NBL MVP in 1987. Mark was inducted into the Australian Basketball Hall of fame in 2006 and Adelaide 36ers Hall of Fame in 2020.
Mark started the "Mark Davis Basketball Camp" in 2004 with an aim to providing sporting opportunities to young boys and girls seeking to improve their basketball skills. The camp also focuses on building confidence, self-esteem, respect and commitment.
Mark knows and has experienced the importance of teamwork and self motivation whether through sport or everyday life and business. This is the means through which Mark Davis Camps operates. Mark has gained well deserved respect around the league from his fans, media and fellow NBL players.
With the Mark Davis Camp program, Mark regularly visits Country SA to assist the youth by running basketball programs and competitions within the communities and mentoring those needing extra assistance.
Mark supports the Chad Hancock Foundation for Young Adults as an Ambassador and uses his profile to promote their cause.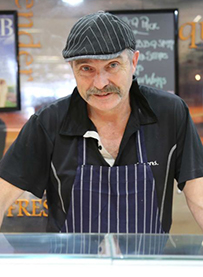 Damien Holmes
Owner of The Gully Meat Service and Crestcut Meats
Damien and his wife Fiona have been the owners of The Gully Meat Service for the past 28 years, building the butcher shop in to the successful business it is today. They now also own a second store at Henley Beach, Crestcut Meats located next to Henley Square.
Both stores offer a wide range of high quality products and Damien and Fiona lead a team of professional staff who offer amazing customer service making both stores very popular.
Damien and Fiona have been involved with The Chad Hancock Foundation since it started in 2005 but where also offering to help in any way they could when Chad was going through his cancer journey and in poor health.
They have been dedicated to fund raising by donating money from sales of dog bones, supply all sausages and onions for all Bunnings BBQ's (which always saw people coming back for seconds saying how amazing the sausages are) and raised $8000 with a Twilight Lawn Bowls night, filling every green at the Hope Valley Lawn Bowling Centre.
Both Damien and Fiona find the enthusiasm and comradeship very rewarding and enjoy the networking between families and friends of the Foundation and wish to continue to help make changes and offer support in any way they can.